LOCAL CLASSES AND RETREATS
Email Gloria if you are interested in going on a yoga retreat to Azores!
Yoga in Peru with Gloria! June 29th to July 7th, 2018 6 Spaces Left! Email for itinerary and cost.
Come celebrate the longest day of the year, as well as honor the strength and power of the sun. Mid-summer Eve – an evening of rejoicing and merry-making at the return of summer! Yoga will be inside, labyrinth walk outside. Wednesday June 20, 2018 from 7-9pm At...
YSS Testimonials
"The best thing about Gloria's yoga classes is Gloria herself! She is compassionate, centered, peace-filled, wise and knowledgeable." ~ Judy T.
YSS Testimonials
"I have done several retreats with Yoga Simple and Sacred Through the years. Local retreats in New Mexico were my first experience, but I also joined a yoga retreat to Costa Rica in 2005 and a retreat to Tuscany, Italy in 2009. Gloria will make sure you have a great yoga experience and also experience the beauty of any location you travel to. I continue to enjoy doing local solstice events and other yoga classes with her in ABQ." ~ Jaguarbeth
YSS Testimonials
"Gloria's calm and grounded approach to the reteat made for one of my most memorable trips. She brought together a group of people from all different walks of life which was one of the greatest gifts of the trip. It gave us the gift to learn from one another." ~ Christine L.
YSS Testimonials
"I've taken yoga with Gloria off and on for 10 years- I've tried others but keep coming back. While other studios have their strengths Gloria's experience and compassion guide her students to gently challenge their practice. I've had various injuries and her mindfulness and knowledge has helped me to gain strength and flexibility." ~ Hengold12
YSS Testimonials
"Gloria Drayer's yoga classes always leave me feeling refreshed and calm. She is great with both beginners and more advanced students. In each pose she offers options to go further and deeper. She's very welcoming of all body types and interested in each student's particular concerns. At the same time, she lets you do what you want and offers corrections only when they are obviously needed." Mark H.
YSS Testimonials
"Practicing yoga is the best thing I have done for my health – physical and emotional. I have attended Gloria's classes for over ten years. She addresses each individual's issues and leads the classes with compassion and intuition. She also leads workshops and retreats that are well-organized, interesting, and consciousness raising. I highly recommend her classes." ~ Sue H.
YSS Testimonials
The journey through Southern India with a like-minded group interested in meditation and yoga created such a soulful experience. My heart is fuller for participating with these people. Gloria creates an accepting space for all members of the group, allowing each person a fulfilling experience in Yoga and in experiencing the tour." ~ LMc505
YSS Testimonials
"Gloria is so gentle with you if that's what you need and I did. I was physically exhausted and now I'm up and going daily. She commented my last class that my poses are strong. Wow. My massage therapist says she can feel the difference in my muscle tone. I always leave soothed. I've actually graduated to a intermediate class and I can hold a plank!!!! Thanks Gloria." ~ Carol C.
YSS Testimonials
"If you are looking for a life changing experience check out one of Gloria's yoga classes. I was hooked after just one class! She is an expert at tailoring the poses for your body, no matter how young or how old you are. No matter what my state or mind or body is before class, after class I am in the 'zone.'" ~ Stella L.
YSS Testimonials
"Attending Gloria's yoga classes and retreats are a gift to yourself. Gloria modifies poses for an individual's limitations or ability to try more challenging poses. Gloria is a compassionate and intuitive teacher. I have attended her classes for over ten years and always leave class with an overall sense of well-being." ~ 909Sue
YSS Testimonials
"I highly recommend this yoga class for all skill levels. Gloria is an excellent yoga instructor, her years of experience are evident in every class. She works with beginners but also challenges those with more yoga experience. I truly enjoy her class!" ~ Ginny B.
YSS Testimonials
"Gloria's mixed yoga class is indeed, tailored for all levels. What I like most about the class is there is no pressure to do any moves beyond your desire or ability. For me, the class is primarily part of my stretching and balance program. Gloria has a loyal following but welcomes new comers and incorporates everyone's needs into this class." ~ Lynn A.
YSS Testimonials
"I knew I was in an excellent yoga class when the instructor's clear and simple instructions managed to coax my body into poses I didn't think I was capable of. The class works for all levels, with modifications suggested for each pose. Taught in a friendly, welcoming environment with plenty of space. I can't wait to go back!" ~ Christina Y.
YSS Testimonials
"Gloria provides a complete mind/body yoga experience. She leads without judgment and includes postures at many different levels. I always leave her class feeling positive about the practice. Her yoga trips are well planned and organized. Yoga takes on new meaning with great friends and amazing venues." Margaret B.
YSS Testimonials
"Attending Gloria's yoga classes is a gift to yourself. Gloria is a compassionate and intuitive teacher. I leave each class with a sense of well-being." ~ Sue H.
YSS Testimonials
The primary reason your business survives is because you are good at teaching, good with people, good at listening to what student's body parts need help and immediately coming up with moves to help, good at not pushing but helping us to accept and work with our body's limitations, etc. etc. It's because of how you teach and who you are that makes it easy to refer people to your classes. ~ Ann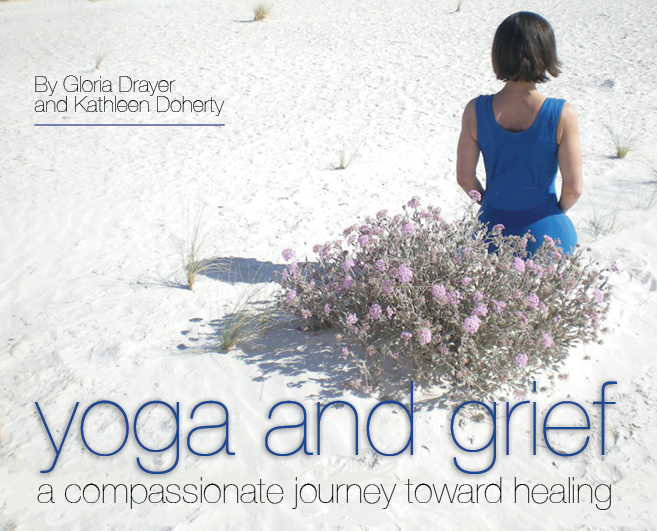 Workshops on yoga and grief can be arranged if enough people are interested. Click here to see the upcoming classes. This is a holistic approach to healing designed for those who are going through the process of grief. These postures consist of a gentle yoga practice...
read more
Gloria Drayer offers private yoga sessions for you. $65 per 60 minute session at Gloria's location; or $95 per 60 minute session at your location. Call 505-275-6638 for an appointment. Why Private Classes? Are you too busy to get to a yoga class? Would you like to do...
read more